Things are getting Stranger in El Dorado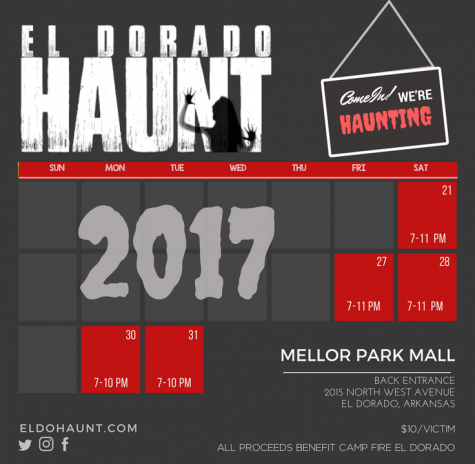 Camp Fire El Dorado has organized EldoHaunt, a haunted house at the Mellor Park Mall, for the Halloween season as a fundraiser.
Camp Fire is a community service organization of students kindergarten through 12th grade that provides the opportunity for them to make a difference in the community.
Other types of fundraising include a letter-writing campaign and an annual candy sale. "The funds are used to provide programming to over 700 youth in Union County," said Leanne Harrell, executive director of Camp Fire.
The Camp Fire board decided to change things up from the average fundraiser, Harrell said. "The board wanted to do a fundraiser that was different from the usual luncheon, golf tournament, etc., and [that] would fill a void in Union County."
Gary Hall, of the South Arkansas Arts Center, taught a variety of makeup looks. Also, decorations and supplies were purchased or loaned by various people in the community.
EldoHaunt took only two weeks to set up with the help of community members. "Each year we ask for volunteers.  They are made up of the Camp Fire board, members, parents, alumni and other people in the area that enjoy scaring others," said Harrell.
"The Haunt takes a lot of time and is really hard work, but it's also so much fun.  The cast and crew become like family because of the long hours we spend together," said Harrell.
The last time to experience the EldoHaunt walk-through will be tonight from 7-10. Tickets are $10 "per victim" as stated on their Facebook page, www.facebook.com/eldohaunt.
More information is also available at www.eldohaunt.com.