Elvis in El Dorado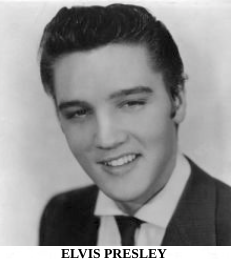 The famous Elvis Aaron Presley known as "The King of Rock and Roll" is famous for his music in the mid 1900's has made at least two appearances in El Dorado in a with a show in the High School's Auditorium.
"Elvis Presley, the 20 year, old fireball from the Louisiana Hayride, is coming to the Senior High School, El Dorado, for a personal appearance on Mar. 30 at 8 p.m.                                                                                         And the good-looking youngster, who combines country music with bop in fastest selling style available, will be sure to have the young 'uns from 9 to 90 — with him all the way.                                                      Presley, along with his musical sidekicks, Scotty Moore and Bill Black. came upon his career quite by accident when a recording manager heard him making a personal record, and was so impressed that he signed him up to make records. The success of "'That's All Right Mama" and "Blue Moon of Kentucky" started a series of hits including "I Don't Care If the Sun Don't Shine", "Good Rockin' Tonight" and his latest release, "You're a Heartbreaker" and "Milk Cow Blues Boogie"; He also does a number of novel and rhythmic tunes on his shows that he has not recorded.                                                                                          Scotty Moore plays the hot guitar and Bill Black thumps the bass, and sometimes enjoys telling a few yarns on the other boys on the shows.                                                                                                                                            T. Tommy, popular DJ from Shreveport, and Mercury Recording artist will be featured at the show too — as will Betty Amos, Sweetheart of the Louisiana Hayride and Onie Wheeler. Mike Michel, KDMS DJ, is sponsoring the event."
– Arkansas Daily News – March 27, 1955 courtesy Barton Library
The show was sponsored by the local radio station KDMS and because it has a range all the way to Shreveport, the weekly Hayride broadcasts came in loud and clear and Elvis was no stranger to the local listeners. Mike Michael(s), who works at KDMS in El Dorado had this to say: "This guy Elvis Presley is just about the hottest thing around these parts. His style really pleases the teen-agers." Elvis's next appearance would be in Memorial Stadium, it has been argued that Elvis has played there twice. Like the show in march this one was also sponsored by local radio station KDMS.
"The Chamber of Commerce's Oil Progress Week committee has announced that a free program will be presented to the citizens of Union County Monday night at 8 o'clock in Memorial Stadium.                            The free entertainment featuring Elvis Presley will be presented for the conclusion of another annual oil progress week in El Dorado and vicinity. Also a full program of local talent will be at the concluding ceremonies in the form of an Amateur Contest.                                                                                                              First prize for the winners of the contest, to be determined by the audience's applause, is a $75 bond. Second prize is a $50 bond and the third, a $25 bond.                                                                                                            Elvis Presley, known as the "King of the Western Bop", has made many appearances in the entire south for appreciative and usually very large crowds. He was born in Tupelo, Miss. and moved to Memphis when he was 12. A natural sense of rhythm along with a unique voice quality benefited from his childhood surroundings in which country and (African American) blues were everyday music to him.                              Elvis is 20, unmarried and likes his pink and black Fleetwood better than thoughts of becoming married. One of the "coolest types" of dressers, Elvis admits that he does like the women though.                                        The following is a partial list of some of the talent to be presented on the amateur contest: the Gospel Four Quartet, Arkansas Rhythm Boys, Boys Club Trampoline Act, Chitlin Switch Road Runners, Bob Brewer and his "Rock-Me-Boogie-Boys, the Beaver Family, Ruth Ann Womack and a piano number and some dance numbers from the Bobby Modisett Dance School."
– Arkansas Daily News – October 16, 1955 courtesy Barton Library
Recollections of the show differ between some of the locals about the date he performed. Some rumors state that he arrived late, was drunk and had to sobered up before he could perform. Though possible late, the rest of the rumor is unfounded, and out of character for the early rock star. According to Joe Dempsey, the oval track surrounding the field had an entrance from the street and when Elvis arrived he drove in from the street up to the track.
Quoting Bobby Bird, Bill E. Burk wrote, before the show, Elvis asked me if I would tune his guitar. He sat there in his car signing autographs while I tuned it. It was that Martin with the unborn calfskin with 'Elvis Presley' dyed in pink on it.                                                                                                                                                After a while, Elvis asked, 'You got my guitar tuned?' I said, 'Yeah.' He took it and went on stage. Before he went on, Scotty and Bill were doing most of the talking. Bill was doing most of the talking. But when Elvis took the stage, it was his show! He stole the show. It was the greatest performance I had ever seen. He went up there on that stage wearing violet pants, a black shirt, orange jacket and white bucks. That is All Right, Mama was the only song of his we knew at the time. He sang maybe a half-dozen songs during his part of the program. The stadium seated just under five thousand. It was almost full. While Elvis was singing and dancing about, the fans were hollerin' and shooting firecrackers. Girls were falling out of the bleachers, fainting. It (Elvis' performance) was like being hit by a hammer. Some boys got mad because of the effect Elvis was having on the girls. They let the air out of the tires of his Cadillac. They had to bring in a tow truck with an air tank to re-inflate those tires. It didn't seem to bother Elvis at all. He just sat there patiently in his car signing autographs. He was very polite. You could tell even then he was on his way.
Elvis would appear one more time in El Dorado at the end of the following year. In between performances in Amarillo and San Antonio, Texas they Chartered a plane in the middle of the night to Nashville. The pilot got lost just before dawn and they landed at an airstrip outside of El Dorado to refuel.
Guralnick wrote, It was chilly, and the musicians huddled together in the little coffee shop, yawning and making desultory conversation. It was just light when they took off again. Scotty was sitting beside the pilot, who asked him to hold the wheel for a minute while he studied the map. Just as Scotty took the wheel, the engine coughed and died and the plane started to lose altitude. There was a good deal of confusion, and Bill pulled his coat over his head and cursed the day he had ever let himself be persuaded to go up in this rickety machine, before the pilot discovered that when they refueled they hadn't switched over to the full tank and the airstrip attendant hadn't bothered to refill the empty one. When they finally got to Nashville, Elvis announced half-jokingly, "Man, I don't know if I'll ever fly again."
Most information was found at: http://www.scottymoore.net/eldorado.html