Varsity Track and Field breaks past barrier of youth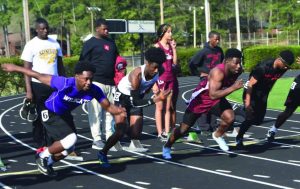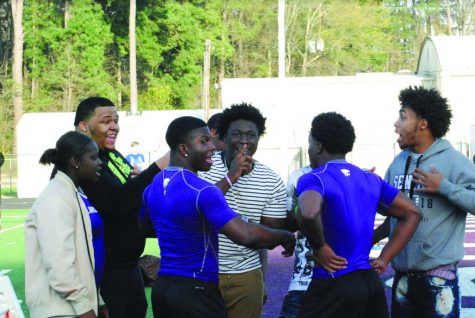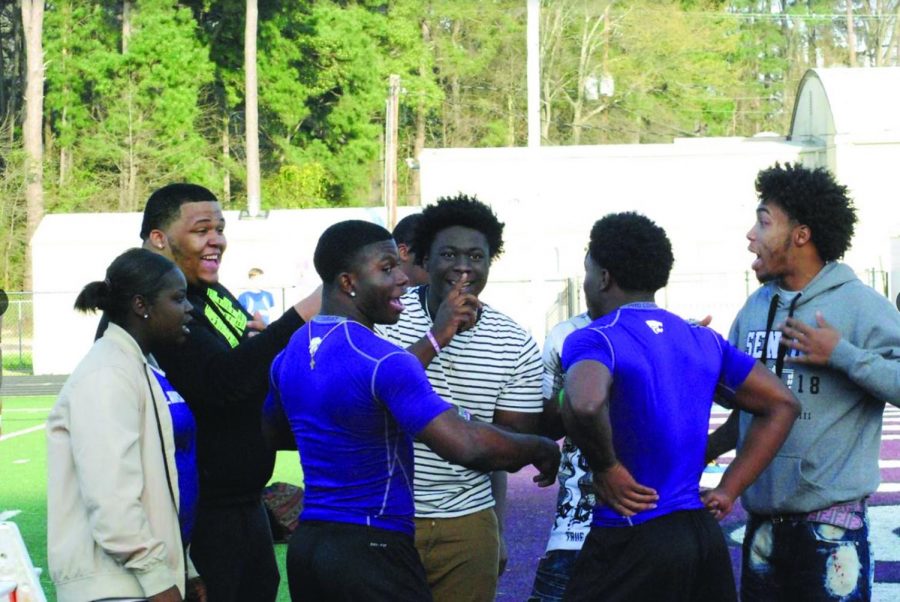 Above, Shun Levingston, far left, jumps off the line at the Oil Belt Relay held at Memorial Stadium. Left, Wildcat Varsity Track and Field teammates AJ Hicks, third from left, and Levingston, second from right, joke with friends between events.
The season has just begun for the El Dorado High School Boys' Track and Field Team.
The sport consists of six field events and 13 running events mixed with sprints, distance running, hurdles and relays.
Head Coach Mike Sprawls explained his expectations and plans for this season.
"I just want to see us get better as we go on. We're a really young team, so I feel as the year goes on we're going to grow up and get better. I know we're young but I expect to score a lot of points this season at the conference track meets," he said.
Although the season just started, Sprawls is already proud and excited to see what they can do.
"We've only ran three meets and we're doing exactly that. Our first meet of the year we got the runner-up trophy at the Northwestern Relays in Springhill, and some of our boys have been stepping up. So we are definitely getting better, we're just really young right now."
They may lack experience because they're a young team, but their hard work and dedication is being proved on the field.
Shun Levingston is one of the best on the team and he's known for his quickness and high placing in many different events. He's only a junior, but went to the state track meet as a freshman.
He explained his expectations for the team this season and what he competes in.
"At track meets I do 1 by 10 hurdles, 4 by 1, and I'm starting to do long jump. This season I expect everybody on the team to just keep working hard and continue to push each other. For myself, I definitely want to get faster this season and work on getting over hurdles a little bit better. I've been working a lot and I'm going try to get first place in 4 by 1 at least from here on out," he said.
Again and again, Levingston proves that there's no obstacle you can't complete when trying your hardest.
"This season is going good although it's only two seniors on the team. So we're lacking a little of experience. We still have some issues but we're good. We'll be able to fix those," Levingston said.
Caleb Scott, a junior, has a bright future ahead of him in track and field events.
Scott explained what it takes to do track.
"In track you will face obstacles such as shin splints, which hurt really bad, but you have to be mentally strong and finish your event. My events deal a lot of jumping and doing relays with my other teammates. I do 4 by 1, 4 by 4, long jump, and triple jump."
"I run everyday and jump 18 feet in long jump so I'm slowly improving my jumping ability. Now I'm able to be in the 20s, which is a good improvement," said Scott.
Scott hopes the team can clinch a spot in the playoffs this season.