Cookies and smoothies and snacks, oh my!
Wildcat Café offers treats for EHS students and faculty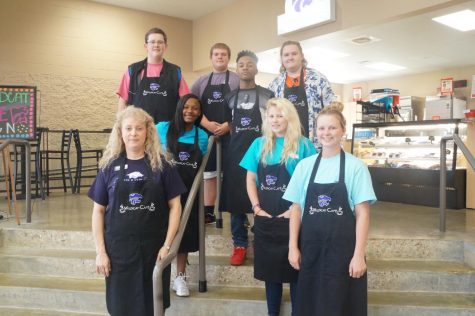 Tasia Richardson
Jackie Phillips works with students in the Wildcat Café each day to provide sweet treats for students.
El Dorado High School students are rushing to the El Dorado Wildcat Café before and after school for the handmade slushies and fresh-baked cookies. The café is open every morning from 7-7:30 and each afternoon 3:15-3:40.
Jackie Phillips, the manager at the café and EHS business and marketing, said she doesn't have a favorite. "I can't just pick one, they're both great. Everybody loves the slushies because they have ice in them and it's very hot right now. Plus they're refreshing. Everyone loves the cookies because they're baked fresh everyday and they're chocolate chip," she said.
Slushies and other items must meet the state regulations, and if not, the café may not be able to sell those items. "The nutritional value has to be less than 200 calories or has to have a certain amount of whole fats," she said.
"We have to meet the nutritional guidelines. There's only so many products we can really carry. Five years ago we did a grant from the state department and we decided to do a coffee shop and it's just slowly been evolving to keep adding more projects every year," Phillips said.
Workers are all students, and to join, must be members of Distributive Education Clubs of America (DECA) because it's ran through that organization.
Phillips said there's a reason not just anyone can work for the café. She said, "It's state mandated, requiring our small business operation to have a school-based enterprise."
To sign up, students must be enrolled in the small business operations class and have had taken the Computerized Business Applications (CBA) course.  
Workers don't get paid, but do receive a grade and learn stocking, inventory and cash register operation. Staff members are required to work two shifts a week — mornings, evenings or a combination — and that's how the grade is determined.
The class is a one year class, but if students decide to take it more than once, then no credits are given for repeat years.